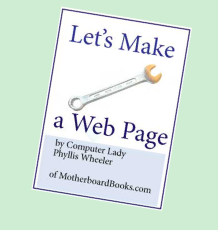 (
Price: $19.95)
We haven't done a lot of computer work, but I wanted my son, Jack, to try something different. When Motherboard Books came up for a review I wanted to check it out. We were able to review Let's Make a Webpage for our review. Motherboard Books are written by a homeschool veteran, Phyllis Wheeler, who wants to help our children get a good foundation to computer knowledge. She has lots of different programs to get you started. My fourth grade son was able to work on her Let's Make a Webpage program.
We received and downloaded a 60 page e-book, this is just a short-term homeschool project for kids 8 and up, you will probably need to help your younger children. Children 10 and over should be able to do it themselves. Parents are given instructions which includes Internet Safety and uploading To the Internet. We downloaded the free trail version of CoffeeCup software

. I did have trouble with this part (I downloaded the wrong thing), but I emailed Ms. Wheeler and she promptly helped me fix my problem.

Check out what is in the e-book.
Table of Contents: Introduction for Parents
Lesson 2: Download and Set Up the Program
Lesson 6: From the Internet, Add Animations
Lesson 7: Browser Check, Backgrounds, Photos
Lesson 10: Post Your Work
Appendix: How to Upload to the Internet
Once I got everything downloaded we jumped right in. The directions were very easy to follow and the concept is great. My son interviewed his big brother about his job as a bat boy at our local Minor League Baseball team, Louisville Bats. The directions made the process very easy to work through. Jack could have done most of it on his own, but I worked right along with him. He really enjoyed adding the the photo, choosing the picture and adding the animations, he had a swinging bat and flying baseball. His web page looked great and really loved that he created it.