B is for Basketball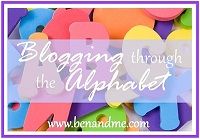 It's March and everyone loves some March Madness!
Basketball is in the air. My husband and oldest son are in full swing of the tourney. Watch games when they aren't working, checking their brackets every morning and cheering on their U of L Cardinals, or Indiana Hoosiers. Well not me.
I'm not really a basketball fan, the only basketball I care about is our boys playing Upward Basketball.
This is Jack's fifth year and Evan's second. We love it.
Jack and Evan with their Upward trophies.
I will admit though, I'm excited about March too.
Jack after his first practice.